Director Heat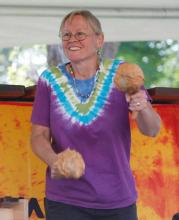 her Steele
I was raised in a family that loved to sing together. In college, I continued to sing as well as studying ear training, music theory, history, and jazz theory/arranging. After starting a family, I taught Music Together ®, a parent/child music program that encourages parents to become musical role models for their infants and toddlers. The playful creativity of this program inspired me to try Zimbabwean-style marimba.
My chance came in 2006, when our family relocated temporarily to Moscow, Idaho. I joined a marimba band associated with the University of Idaho and quickly found a passion for mallets on wood and the African grooves that pull you out of your seat. I built my first marimba and began gathering tunes at annual festivals and workshops. A year later, we moved to Boise. As there were no teachers or bands here, I soon realized that to play this music, I would have to start building a community by teaching others. So began Marimba Boise.
Since then, I have had the privilege to meet many wonderful and talented people, collaborate with community and school choirs, and perform at a variety of venues around town. It continues to be a joyful adventure.